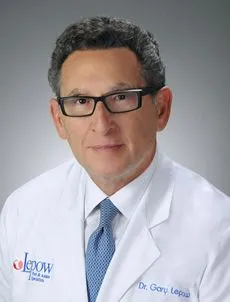 Dr. Gary M. Lepow began his practice in 1976 after completing his medical degree and advanced training in Foot and Ankle Surgery and Sports Medicine. The advanced training included a Master's degree in Education.
Soon after beginning practice in the Texas Medical Center, Dr. Lepow was accepted to the University of Texas School of Public Health. This increased his interest in medical education and medical politics. These activities included serving nine years on the Council on Podiatric Medical Education, six years on the Council of Teaching Hospitals, also serving as its President. Dr. Lepow also served on the Board of Directors of the Texas Podiatric Medical Association and the American College of Foot and Ankle Surgery where he was elected President in 1999. Other academic achievements include authoring numerous scientific articles, serving on editorial boards of two medical journals, serving on the National Board of Podiatric Medical Examiners and an examiner for the American Board of Podiatric Surgery. Dr. Lepow continues to teach students and residents and maintains clinical faculty appointments at both the Baylor College of Medicine and the University of Texas Medical Branch at Houston.
Dr. Lepow has always felt a commitment to the disadvantaged patients of the Houston Community. In 1990, Dr. Lepow developed the podiatry service at the Harris Health Hospital District where he continues to be the Director. As the Director, Dr. Lepow's primary focus has been to reduce lower extremity amputations in diabetics and provide comprehensive foot screenings for all patients. Another method of improving health is providing public information. Dr. Lepow has always participated in the Community and Industry Health Fairs. He also developed, produced and was the host of a local television program called Health and Fitness which ran for eight years.
Charitable activities have also remained an important aspect of Dr. Lepow's professional career. He served on the Executive Committee of the Muscular Dystrophy Association and the Board of Directors of the Volunteers of America. Dr. Lepow developed the Lepow Shoes for the Needy in 1988. Serving as its Director, the shoe drive is the largest contributor of shoes in the Houston area.
Dr. Lepow maintains staff privileges at the Methodist Hospital and is the first and only Podiatry Chairman of the Foot Service, St. Luke's Episcopal Hospital, Memorial-Hermann Hospital, Memorial-Hermann Southwest Hospital, and St. Joseph Hospital.
When not treating patients, teaching, or participating in numerous organizational and charitable activities Dr. Lepow enjoys exercising and the outdoors including hunting and fishing. He also enjoys spending time traveling with his wife Gloria and sharing in many family occasions with their four children and son in law and daughter in law.