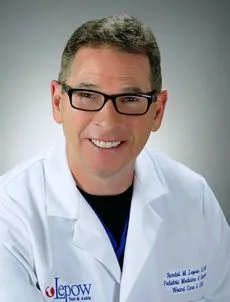 Dr. Randy Lepow was born and raised in Houston, Texas. He attended Bellaire High School and received his undergraduate degree in Biology from the University of Houston. Dr. Lepow attended the California College of Podiatric Medicine and received his degree in Podiatric Medicine in 1982. He returned home to complete his residency and surgical training at the Harris County Podiatric Surgical Residency Program. He served as co-chief resident his senior year. Following residency, Dr. Lepow opened his practice at St. Joseph Medical Center and Memorial Hermann Southeast Medical Center. Several years later he joined his brothers to create what is now Lepow Foot and Ankle Specialists. Dr. Lepow is Board Certified in foot and ankle surgery and recently became Board Certified in wound care.
Dr. Lepow has been very involved in his profession, practice and post graduate medical education for the past 30 years. He served for six years on the Board of the Council of Teaching Hospitals. He founded and is the chairman of the Houston Podiatric Foundation, a non- profit organization, which coordinates and oversees the training of Podiatric Residents. Dr. Lepow founded and was the Director of three podiatric surgical residency programs in the greater Houston area. Dr. Lepow founded and was the Medical Director of Home Foot Care which provided in home podiatric services for home bound patients. He has served as the chief of his department at several local hospitals and ambulatory surgical centers. He maintains academic appointments at the Colleges of Podiatric Medicine.
Dr. Lepow is married and is the father of two sons, Philip and Garrett. His wife, Dana, is very involved with volunteering with numerous local charities. She has served on the Board of the American Cancer Society, Victory, a division of the Cattle Baron's Ball. She has also served on the Board of the Partnership of Baylor College of Medicine, MD Anderson Network, Baylor Breast Center and the American Heart Association. Dr. and Mrs. Lepow enjoy spending time with their two sons traveling, skiing, fishing, hiking, biking and just enjoying the great outdoors.